//Peter Whitehead /June 1 / 2015
Is mobile killing the desktop internet?
With mobile growing so rapidly, particularly in emerging markets, there has been much talk of mobile killing the desktop.
An article in The Wall Street Journal claims that desktop usage isn't decreasing, as is often claimed. Jack Marshall explains that while the share of the market enjoyed by mobile internet access is growing fast, the total time spentTime SpentThe amount of elapsed time from the initiation of a visit to the last audience…//read more online from desktops isn't falling and might even be increasing.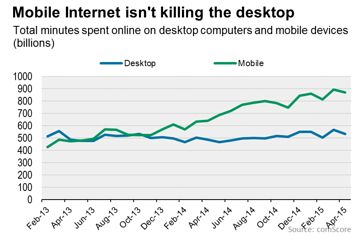 He analyzes comScore data in the US and concludes that mobiles aren't stealing online time from desktops, but are "unlocking" new time that people are spending on the web. "That understanding has important implications for media owners and marketers, who often say they're altering their sites and strategies to cater for their growing mobile audiences. It makes sense to optimize for mobile if that's a large and growing audience, but mobile isn't the only game in town. In fact, it seems desktop internet use is here to stay, for the time being at least."
However, Thad McIlroy on the Future of Publishing blog says this interpretation is misleading. The data The Wall Street Journal bases its findings on "encompasses all desktop computer usage, the majority of which relates to the Microsoft and Adobe application suites as well as email".
"The real story is not that the PC usage is up, but that simultaneous device use — usually called 'multi-platform' — has changed the device landscape." McIlroy says that data from another comScore report, The U.S. Digital Future in Focus 2015, shows that the number of people only using desktops to access the internet is declining sharply in all age groups, even the 55+ segment, and that across all ages the amount of mobile-only users is also growing fast.
This interpretation of the data – that mobile is growing at the expense of desktop – seems to be backed up by Google, which recently confirmed that it's now serving more Google searches on smartphones than desktops in 10 counties, including the US and Japan. To respond to changing demands, Google is "rolling out new, smartphone-optimized ad formats that give users more reason to tap than its traditional AdWords. These include picture-heavy automobile ads that show users a gallery of their dream ride before directing them to dealerships, and hotel ads that sandwich together availability, prices, user reviews, and pictures into a compact mobile format."
However, while the amount of mobile access might be outstripping desktop, an Outbrain study in the Asia-Pacific region shows that people consuming content on desktop are much more likely to engage with content compared to mobile, especially when it comes to paid content, reports Trak.in.
"In fact, if we compare desktop vs mobile, then engagement level falls drastically to 36% in Australia; and 9% in India. This means that if an Indian accesses a piece of content on mobile, then there is 9% less chance of his engagement compared to accessing content on desktop. Engagement here means sharing, commenting, liking the post or following the author/publication on social media."
Of course mobile and desktop are both heavily used to access email. Yesware Enterprise examined more than 14 million messages sent by its users earlier this year to produce a detailed pattern of when and on what device people use to read their emails. This slideshow gives an insight into their findings.
Article by Peter Whitehead