MENA news groups need to provide high- and low-tech mobile services
The mobile revolution continues to sweep over the world, and few regions are seeing as rapid development as the Middle East and North Africa.
The Arab region accounts for 6% of the world's mobile connections. This may not sound like much, but dig a little deeper and you can see that the region has had a remarkable mobile decade – with connections growing at more than 32% a year for the past 10 years.
Research by Deloitte for the GSMA has revealed that by the end of 2012 there were 391 million mobile connections across the Arab states. Just ten years ago that figure stood at 19 million. The only region where mobile connections have grown at a faster rate during that period is sub-Saharan Africa.
Looking ahead, these trends are expected to continue, not least because two-thirds of the MENA population is under the age of 30. Young and increasingly tech savvy, the Arab Digital Generation may be leading the way, but take up of mobile technology is starting to cut across all demographicsDemographicsCommon characteristics used for population or audience segmentation, such as…//read more .
The good news for media organisations is that "news and feeds" apps are popular amongst the region's mobile smartphone users, but it is essential for news organisations to understand that there is no one-size-fits-all solution in developing a mobile strategy, as use varies widely not just across this diverse region but also within countries.
One region, many markets
Like other developing markets, although the MENA region has experienced dramatic mobile growth in the past decade, the picture is more complex than headline statistics suggest. Not only are there huge variations between urban and rural populations within countries, on a regional level large, wealthy countries' usage distorts the region's mobile figures.
Much of this complexity stems from the fact that, despite many shared linguistic and religious characteristics, the Arab world is far from homogenous. In particular, there are considerable socio-economic differences between the Gulf countries in the Middle East and the Arabic (and French) speaking nations of North Africa.
These differences – which include household incomes and employment levels – also manifest themselves very clearly in the adoption of new technology. The region is polarised between countries such as Saudi Arabia which enjoys a mobile penetration rate of 209% – and a smartphone penetration level of 54% – and South Sudan where mobile penetration is just 22%.
Recognising that the Middle East is not a single market but many different markets is an important starting point for news outlets. What works in one country, may not work in another for a number of reasons including connectivity, competition and context.
Another factor which can skew our understanding of the region is the dominance of Egypt and Saudi Arabia.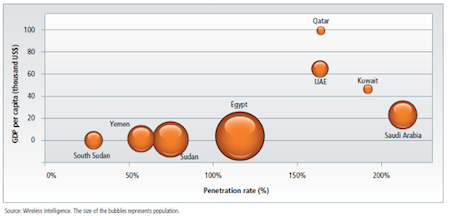 Collectively they account for 40% of all mobile connections in the Arab world, as well as some of the region's largest online and offline populations. Egypt alone represents 20% of the MENA population, whilst Saudi Arabia  – with an internet population of 8.5m – has an internet universe 17 times larger than that of nearby Oman.
Given this, it is not surprising that these two countries heavily influence markets for content consumption and social media activity.
In the social sphere, as the Dubai School of Government's 5th Arab Social Media Report  showed, usage of Twitter in the Middle East is dominated by Saudi Arabia. With 1.9 million active users in March 2013, it dwarfs its nearest rival (Egypt, with 519,000 active Twitter users).
Conversely, Egypt dominates MENA's usage of Facebook.  Of the 54.5 million active Facebook users in the region, over a quarter are in Egypt. With just 16% of Egypt's population on Facebook, there is plenty of room for growth too.
For news organisations looking to develop mobile strategies, they will want to make sure not to rely on regional statistics but the most up-to-date information about their own countries.
Deciphering mobile behaviours
Although there is an increasingly rich seam of data about mobile take-up in the Middle East, understanding what users do with this technology is harder to ascertain. Nonetheless, we can establish some characteristics about mobile behaviours in the region. The most striking of which is the volume of mobile usage.
Research by Northwestern University in Qatar concluded that MENA residents are online for 17 hours a week  through wireless devices.  How this time is spent is unknown, but anecdotally chat apps, social networking and gaming are all popular pastimes. Given that users spend 2-4 hours a day on social networks, it is likely that much of this activity is undertaken on mobile devices.
Q: How much time per week do you use the Internet through wireless handheld device(s)?
BASE: Internet and Wireless Hand-held Device Users
Base with selected filters: 5177
Much of this activity is on Facebook, which is used by 94% of social networkSocial networkAn online destination that gives users a chance to connect with one or more…//read more users. This is followed by 51% on Twitter and 45% on Google+. These findings offer further clues for news providers about where they should focus their social presence and the extent of the potential social opportunity.
Alongside Northwestern's study, new data from Ipsos MORI offers further insights into the online habits of users across 6 MENA countries (Saudi Arabia, Egypt, Jordan, UAE, Lebanon and Kuwait).
Of particular interest to news businesses is the finding that amongst smartphone users, "news and feeds" is the top category for app downloads across four of the six countries they surveyed (see slide 22).
This is good news for providers such as LBCI News, Alarabiya and BBC Arabic – all of whom have produced a range of mobile apps – although these figures do need to be treated with some caution, as downloaded apps do not necessarily translate into use and some of these smartphone markets are still quite small.  In Egypt, for example, just 5% of the total population own a smartphone, against overall mobile penetration of 105%, and in Jordan this figure is 19%, compared to 143% total mobile penetration.  Nonetheless, it will be interesting to see whether "news and feeds" remains the top download category in these countries as smartphone adoption grows.
A further encouraging statistic from Ipsos lies in the role played by the web as the primary platform for daily news consumption amongst internet users. This finding was reinforced by Northwestern's study, which reported that 49% of internet users in the region used the web daily for local, national or international news.
As with social networking activity, it is not clear how much of this daily news consumption is undertaken using mobile devices. However, given the high levels of mobile web browsing in the region, it is likely that much is through wireless devices.
The GSMA notes:
Due to the limited coverage of fixed-line networks and the associated cost of computers, mobiles are quickly becoming the main platform for internet browsing. Eleven countries in the region rank above the world average in mobile web browsing.
In countries such as Sudan, mobile browsing accounts for 45% all internet activity, followed by Libya, Oman and Kuwait at around 25%. This is compared with a global average of 10%.
Of course, as we noted with desktop digital media, consumers are often ahead of advertisers. You will need to evaluate not only the consumer appetite but also the business opportunity as you determine how to stage your strategy.
Further Implications
Whilst we need to undertake further research into what content mobile users are consuming, these statistics should provide encouragement for news providers. On the horizon, content providers should also consider these three developments which may shape their editorial vision and portfolio:
4G and Video
4G is a reality in some Middle East countries and about 167 m videos are viewed every day on YouTube across the region. As with Twitter this is a network where Saudi Arabia leads the way. With 90 m video views every day, Saudi Arabia enjoys the highest number of YouTube views in the world per internet user. And although most YouTube consumption is typically through a desktop, this is not the case in Saudi Arabia where 50% of these views are on mobile devices.
Across the region mobile video consumption is only likely to increase, particularly as LTE networks expand. Cisco's Global Mobile Data Traffic Forecast, argues that the Middle East and Africa will be the fastest growing region for mobile data, with a growth rate of 77% CAGR between 2012 and 2017. Globally, Cisco estimates that by 2017 video will account for two-thirds of the world's mobile data.
Managing technological divides
Alongside the roll-out of 4G networks and an increased penetration of smartphones, content providers must continue to be mindful of digital divides. Outside of cities, for example, fixed line connectivity is often quite low. Mobile broadband may therefore be the only way for some rural audiences to enjoy online content.
For feature phone users, SMS based news and information may remain popular for some time, especially if smartphone adoption in the region fails to exceed 40-50% in the next five years as Ericsson's 2013 mobility report  suggests.
What's interesting about this prediction is that some MENA countries already exceed this level of adoption.  Nielsen  noted in 2012 that Qatar has a 75% penetration of smartphones, a figure higher than the total mobile penetration of some Arab countries.
As Northwestern University in Qatar recently noted across the region there is:
…a genuine digital divide, between the four wealthy Gulf states – Bahrain, Qatar, Saudi Arabia and UAE – and those that do not share such abundance – Egypt, Jordan, Lebanon and Tunisia. The digital divide demarcates technological abilities in the Arab world about as starkly as anywhere on earth.
Content providers therefore may wish to consider repurposing their output to reflect these technological realities. Basic technologies such as SMS and FM radio continue to sit alongside more sophisticated mobile technology such as 4G, and to reachReach1) unique users that visited the site over the course of the reporting period,…//read more the largest possible audience, news organisations will want to serve both high-tech and lower-tech audiences. Ideas submitted to the annual Knight News Challenge offer some suggested ways forward, as do some of the strategies employed by Al Jazeera. The network simulcast their English service on FM radio in Doha, and to reach US audiences which might not be able to watch Al Jazeera English on cable or satellite networks due to lack of carriage, the channel offers US audiences a telephone number they can call so that they can listen to it on their phone.
Media literacy
Finally news providers also have a role in promoting participation in news discourse and its consumption. With the technology increasingly in place across the region for audiences to consume content via a mobile device, publishers may need to encourage this adoption by educating audiences on how to do this. Western broadcasters such as the BBC have used promotional campaigns and presenter endorsements to promote Video on Demand and other online services for some time.  As with some of the other ideas in this article this is arguably something Middle Eastern media could do more of.
The good news for news providers is that high mobile penetration levels, coupled with a strong interest in news  – as well as the popularity of mobile browsing and social networking – mean that the building blocks to create a mobile audience are already in place. By harnessing the creative potential of these platforms and promoting their services to a wider range of users, then digital news in the Middle East can move forward to the next stage in its evolution.
Article by Damian Radcliffe