Digital revenues: Looking for the third way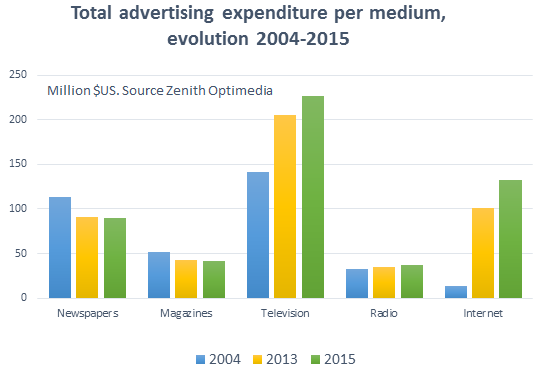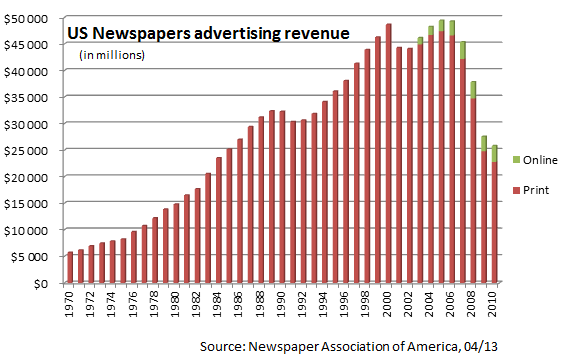 The two charts above may seem contradictory. Yes, global online ad expenditure has multiplied tenfold since 2004. Yes, digital spend will surpass the printed press worldwide (in many countries, it already has) in 2015. But despite this impressive turnaround, the newspaper industry still gets most of its rapidly diminishing advertising revenues from print, not from digital. Indeed, many traditional news brands have reached huge audiences online but just a tiny amount of the global digital ad revenue cake. Why is that? Just a lack of vision, or is it an unfinished digital transformation?
The advertising paradox
The slow transformation to digital has indeed played a role for many traditional media, but unfortunately it is not the main factor behind this paradox. The most important cause is competition and this cannot be fixed. Media have moved from a world where ad revenues were shared among a very small bunch of papers, TV and radio stations in each country to a world of limitless competitors, from the huge new arrivals like Google or Facebook to the myriad bloggers. It's almost a perfect market, awash with inventory, that is now getting even more 'perfect' with the development of programmatic buying, where machines (not fallible or emotional humans) match supply and demand in real time.
The laws of economics are ruthless. With an increase in competition/supply comes, inevitably, a decline in prices: so digital advertising has always suffered and will always suffer downward pricing pressure. This is why news outlets all over the world are searching with renewed passion for complementary revenue lines. And the main focus is now on 'user generated revenues', either traditional revenues based on editorial content or revenues based on new services.
Revisiting 'editorial revenues'
Only five years ago, almost every news outlet in the world was banking on an open-web-pure-advertising-revenue model. But the global economic downturn and the low prices of digital advertising described above convinced many of the dangers of 'single crop farming' in digital. Only two international business brands – the Wall Street Journal and the Financial Times- were previously pursuing a subscription-based model, based on the exclusivity of their contents and the predominance of companies among their customers: WSJ as early as 1997 and the Financial Times 10 years later. But it was only in 2011 that a major general news property, the New York Times, dared to put its contents behind a paywall.
Three years later, the NYT has grown to 760.000 digital subscribers, an impressive number that has encouraged many to follow suit, even if The NYT's journalism and singularity are difficult to match. Just in the US, there are already 450 national, regional and local news outlets (out of 1,380) that have introduced a digital subscription model according to the Pew Research Center. Are the models all the same?
No. Indeed, the discussion around 'paid content' and its presumed nemesis the 'open web' became so heated (creating two quasi-religious factions), that no one wants to talk about 'paywalls' any more. The forbidden word, as in Harry Potter's 'Voldemort', is now replaced by 'membership', 'club', or anything else without 'pay' in it. And in most cases the offer does go beyond a pure payment for contents, offering users access to extra services, apps or discounts, and – of course – a special engagement with their favorite news brand. In any case, all offers include one or many of the following features:
It's the oldest and usually simplest mechanism tried by publishers online. Users can only visitVisitA single continous set of activity attributable to a cookied browser or user…
Soft paywall/Metered paywall
Introduced in 2007 by the Financial Times and popularized by The New York Times in 2011, this scheme tries to 'square the circle' of subscriptions and advertising revenues. The idea is to design a paywall that is porous enough to allow a very big number of free visits (and, therefore, a large enough digital advertising inventory), but not too much so as to discourage subscriptions.  The logic behind the system is the fact that loyal and very active readers are more willing to pay than casual users – though the latter massively outnumber the former. So the system relies on a 'meter' counting the number of times that a user visits the site and, from a set number of visits per month, the paywall pops up asking the user to log in or subscribe.

The Financial Times launched its paywall with a limit of 10 visits per month, excluding the homepage that is always open. Four years later, The New York Times took a much more cautious approach, because it had a much larger audience and advertising revenues to loose, and because the 'exclusivity' of a general news outlet is always more questionable than that of a financial one. So, the Times opened the limit to 20 free visits per month, excluding homepages and photogalleries which are always open. And to allow the virality of the internet to continue its magic (the main 'collateral damage' of paywalls), the NYT decided to keep access open to any visit coming from search engines and social networks.

All in all, this metered paywallMetered PaywallThe metered paywall allows users to view a specific number of articles before…

Ever since the NYT launch, hundreds of news outlets worldwide have introduced a metered paywall, including titles as different as The Telegraph in the UK, Folha de Sao Paulo in Brazil, The Onion in the US and El Mundo in Spain. Most are very recent developments, so we do not have meaningful numbers yet, but it will be interesting to see whether they are able to reachReach1) unique users that visited the site over the course of the reporting period,…

Freemium models are almost as old as the basic paywall. Their logic is straightforward: you cannot charge users for the same contents you were offering for free just before. So the basis is to keep the existing web open, while creating separate contents and/or products only for subscribers; i.e. a Free area + a Premium area. Indeed, this is a very typical model for software or mobile apps, which provide a basic service free of charge and a paid premium for accessing advanced features.

Many media outlets, old and new, have tried this model, including the New York Times previous 'Select' offer, Le Monde, Slate (very recently) and even the champions of the open web, The Guardian, with its premium tablet and mobile apps only for subscribers. But many ditched this approach after trying it out because it didn't trigger a large number of subscribers (most users are fine with the free part) and because it usually involves an extra effort/cost from the newsroom or the publisher to create additional content/services for the premium area.

Membership usually brings a set of advantages to the subscriber in addition to the editorial contents of the publication – such as free or discounted prices for conferences, exhibitions, theatre and concerts; or special events with the newsroom, etc.) to make him/her feel like they are a member of a 'club'. As noted above, most paid offers from publishers – be they paywalls, freemium models or some other form – are also marketed as memberships. The emotional and ideological link with the news brand is indeed one of the – if not the only – most important factors for readers entering a paying scheme. Importantly, the New York Times realized recently that users respond better to a marketing campaign focused on the survival of the quality journalism they represent, than to other campaigns focused on the many features and advantages of their offer.

New media properties also use this emotional link with their readers/users as a key to their survival. New brands all over the world are being launched thanks to crowd-funding campaigns among their potential readers: people willing to pay to enjoy the type of journalism the brand promised. And many of them are inviting these readers to become subscribers or 'members' as a way to avoid a heavy reliance on advertisers – especially dangerous for small companies – and to support independent journalism. As the new Dutch kid on the block, 'De Correspondent' (famous for raising more than 1 million Euro of crowd-funding in eight days) put it: "De Correspondent is a commercial, for-profit enterprise, but our business model focuses on selling content to readers, rather than selling readers to advertisers".
Beyond publishing
'Diversification' is the magic word for many media groups searching desperately for new sources of revenue in addition to advertising and to the – always challenging – paid content. The logic behind this model is: if I have a trusted brand and X hundred thousand – or even million – users visiting my website every day, I may be able to offer them other services or products endorsed by my brand. This way, publishers can leverage their own media power to build new businesses more or less connected to the editorial, instead of always relinquishing this to advertisers.

Given the difficulties of moving from the publishers' trade to the service providers' or retailers' one, media groups are typically partnering with specialists or even buying their way into these new businesses. The two most widespread diversifications are online services and e-commerce.

Many publishers worldwide have been offering 'collateral' online services to their readers for more than a decade. Indeed, some of these services – such as classifieds – were a regular and very lucrative offer on print papers, and it was a natural transition to exploit them online too. The main difference between media players has been the size of their stake in this market, and their speed to approach it. While some news outlets have been particularly slow and cautious to enter the online business (for fear of harming their declining print product), others have been fast and assertive. In markets where supply of these services is mature, the late entrants are struggling to earn decent incomes from their affiliations with big players, but those who got in early are earning very significant revenues from their own fully-fledged operations. In some cases, much more than their revenues from the editorial business.

The Nordic champion Schibsted and the German group Axel Springer have been the most bullish in this diversification, and not surprisingly they are also the two European players with strongest digital revenues. Schibsted began as early as 1999 to position itself very aggressively in the online classifieds business in Norway, then bought start-ups in Sweden, France and Spain that are now blockbusters in their respective markets. Today they are shopping for a second round of personal finance services websites all over Europe to replicate the feat.

Springer initiated its diversification a little bit later, 2005, buying startups also in classifieds, affiliate marketingAffiliate marketingAn agreement between two sites in which one site (the affiliate) agrees to…

"Retailers have been very good at being publishers for a long time, it's time for publishers to be good retailers," the commercial director of the Daily Mail Group, Marcus Rich, said last year. DMG consumer media division is undoubtedly pushing e-commerce as a key strategy for the Daily Mail brand extension; they already make £5 million in direct cruise sales alone. Pure players like Gawker Media are also keen to run this race and, according to its founder Denton Memo, will make around 10% of their digital revenues from E-comm this year. Even media power houses like the Italian RCS-Corriere della Sera are swiftly moving from taking their first steps in e-commerce (selling 'extended editorial content' such as books or movies) to the second step (partnering with retailers around editorial topics such as travel or beauty) and even third steps (integrating pure e-commerce offers in the editorial content), according to RCS's CDO, Alceo Rapagna.

But most publishers are still in the early infancy of an e-commerce strategy, even if they consider it important.  According to a Forrester Consulting survey of 106 media companies in December 2012, more than 70% thought that having an online store was important, and about the same number said that having a separate deals site was important too. Indeed these two options were ranked third and fourth for driving audience and revenue only after an 'Advanced website functionality' and 'More online advertisers'. But 30% of them added that they didn't have the budget for adding real e-commerce. Are we in Year One of e-comm for publishers, just as 2000 was for services?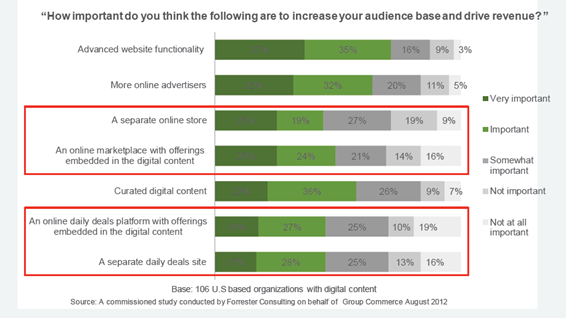 Article by Rosalia Lloret