/April 26 / 2019
WhatsApp for Radio Toolkit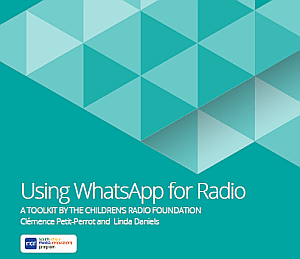 The sixth guidebook in our series was created through the efforts in supporting innovation by MDIF's SAMIP (South Africa Media Innovation Program) and Children's Radio Foundation. This MAS series of practical guides for media managers focuses on using WhatsApp for radio to reachReach1) unique users that visited the site over the course of the reporting period,…//read more audiences. The purpose of these guides is to help media decision-makers understand some of the key topics in digital news provision, and give them practical support in adopting concepts that will improve their operations and streamline how their companies work.
About authors:

Clémence Petit-Perrot is the Children's Radio Foundation's Learning and Innovation Director. She oversees the development all new initiatives within the organisation. Part of her portfolio includes piloting technological solutions like WhatsApp to increase listeners engagement and measure the radio shows' impact. Before joining CRF, she was the Southern Africa correspondent for Radio France Internationale (RFI). She also worked for the South African production company DOXA, producing social documentary films and leading a digitisation project of anti-Apartheid audiovisual archives.

Linda Daniels is a journalist by training and has worked in print, digital and broadcast media. She has reported on a range of issues, which include climate change, Intellectual Property and South African politics. Her work has appeared in local and international publications. Between 2013 and 2018, she worked at the Children's Radio Foundation as the Radio Capacity Building Associate and managed the WhatsApp Integration project.
Please download and share the guide. We would love to hear from you – send any comments or suggestions to us at mas@mdif.org.
Guide #6: WhatsApp for Radio Toolkit by Clémence Petit-Perrot and Linda Daniels