//Jeremy Wagstaff /July 4 / 2018
Beyond the S Curve
Venture capitalist
Mary Meeker
has been presenting her deck on internet trends for a few years
now
. Twenty-three, to be precise. They're good, albeit lengthy, always thought-provoking. And each year I see if I can use her data to tell different stories from the ones she tells about what's going on. This time I'd thought I'd take a look at her slides from a media perspective. I'm not saying these things would happen, but I think they might. And I think Ms Meeker's data support my conclusions.
Slide 186 is simple enough: global shipments of smartphones by year, from 2007 until last year. It's the decade when everything changed, when our computers were replaced by devices many times smaller, and when everything became mobile. The key thing from that chart is that it's s-shaped, meaning it starts out slow, rises precipitously, before levelling out. In short: We bought no more smartphones in 2017 than we did in 2016. The S-curve was discovered by Richard Foster in 1985 and made famous by Clayton Christensen, who invented the term 'disruptive innovation.'
The key thing here is that we're are at that levelling out part. That's when both Foster and Christensen predict disruptive things happen. Foster called discontinuities, Christensen called it disruption, but it amounts to the same thing: other companies, peddling other technologies, products, innovations or platforms, are poised to steal a march on the incumbents and leave them by the side of the road. But what?
Well. If much of the past decade has been driven by smartphones, and it has, then we're near the end of the smartphone era. It's been an interesting ride since 2007/8, but shipments tailed off in 2016, and my interest in what the new Galaxy or iPhone might be able to do tailed off about then too. That means uncertain times, as incumbents search for new technologies, new efficiencies to ward off newcomers, and the newcomers experiment with a disruption that works. I believe the future will have to be beyond smartphones, to the point where we don't need to interact with them at all and will stop treating them (and fetishising them) as prized objects. That, of course, is some way off. But it will come.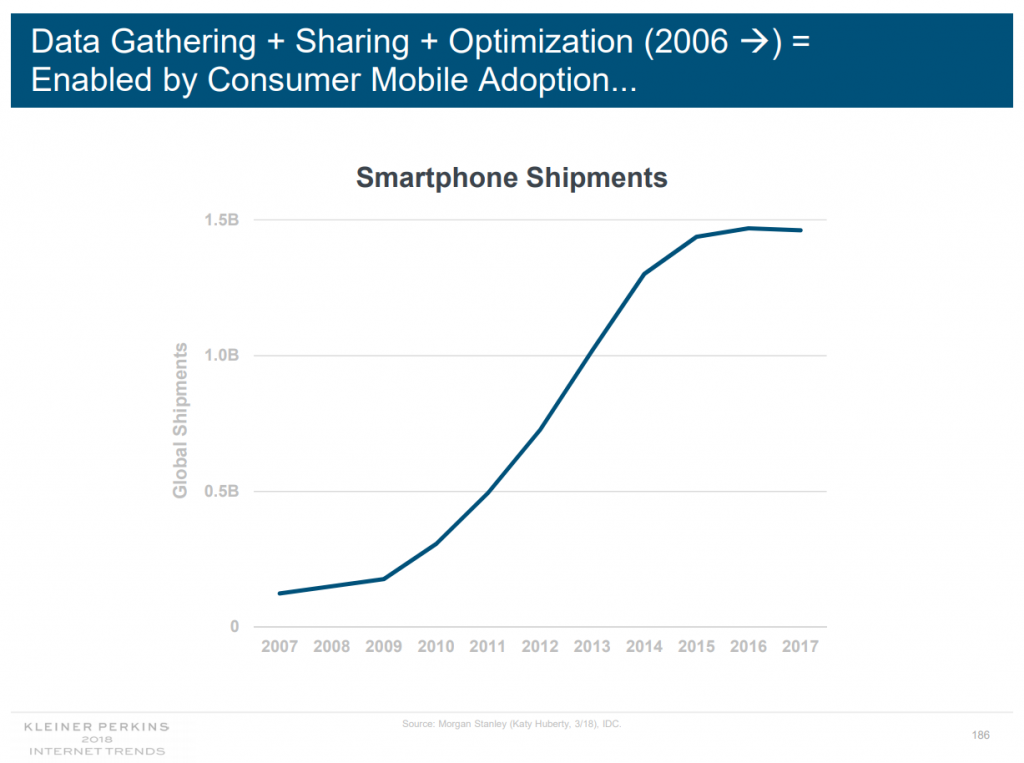 For now though, there are some interesting opportunities, especially for the makers of content.
The first one is this: Apple won the hardware value war, but has probably lost the peace. Consider the following, all taken from Meeker's data:
Other operating systems than iOS and Android have disappeared for the first time (slide 6). The platforms are now clear: Android will not be forked and owned by any hardware maker. (When did you last hear of Tizen in a phone?) Nor will any other challenger survive. There is absolutely no point in trying to build a new operating system for the phone. For other devices, maybe.
Google's Android has maintained market dominance: three-quarters of all smartphones shipped last year ran Android. You would think that as the average selling price of phones increases, high-end Android devices would succumb to the more flashy iPhones. Why not finally get that iPhone you've been dreaming of. But people don't. Why? It's probably because Apple phones are still significantly more expensive, meaning that the shift would usually be to one of the older, cheaper, discontinued, sometimes refurbished, models. (A significant chunk of iPhone users are those on older devices.) In status-conscious places like China, that's not an acceptable switch. Better a new model of a lesser brand, now that those brands are pretty nice looking: think Huawei, Xiaomi, Samsung. Bottom line: as phones go into a replacement cycle, more and more high-end rollers are going to be on Android.
So. What does this mean for media and content producers? I believe it represents an opportunity. As the market for hardware slows — fewer people buying new phones, more people taking longer to replace their old ones — more money is freed up to be spent elsewhere in the ecosystem: on software and services, in-app subscriptions, purchases etc. Apple has traditionally benefited more from this — iOS users spend more in app stores and in-app purchases than Android users (per download a user spends $1.5, as opposed to about 30 cents per downloaded app for Android users, according to my calculation of App Annie data for Q1 2018.) But this gap is narrowing: consumer spend on Google Play grew 25% that quarter, against 20% on the iOS store.In other words: Despite the obvious growing affluence of many Android users, the operating system is still ignored by several key media constituencies — the most obvious of which is podcasts, which are still mostly the domain of iOS users, because Google has been late to make it a core feature of Android. That is changing, offering a window of opportunity. Any effort in focusing on Android is likely to have benefits, because as an OSOS (Operating system)An operating system (OS) is a set of programs that manage computer hardware…//read more it clearly isn't going anywhere, and despite the fragmentation within Android, there's still huge markets to win over. Don't ignore the Droid!
This is part of a bigger picture, a larger shift for the main players as markets get saturated. All the big tech players are competing increasingly on the same field. While part of it is what I would call equipment (hardware and software) most of it is going to be over what you use that equipment for. As Ms Meeker points out:
Amazon is (also) becoming an ad platform, sponsoring products on its websites and apps
Google is (also) becoming a commerce platform (via Google Home ordering)
You might add to that
Netflix, Google, Amazon, Apple are all creating content.
Everyone is trying to do everything because they can't afford not to.
All recognise that the future lies not in hardware, or software, or even platforms, but in stacking the shelves of those platforms. This is not, per se, about e-commerce, but in being the place where people live within which that e-commerce — that buying, subscribing, consuming — takes place. The most obvious example of this is the voice-assistant — Google's Home or Amazon's Alexa. These are spies in the house of love: devices that become part of the family, learning your wishes and habits obediently and trying to anticipate them.
It's artificial intelligence geared towards understanding, anticipating and satisfying your inner selves.
For makers and purveyors of content, the challenge is going to be to understand this shifting playing field. Somehow you need to elbow your way into one of these channels and provide a service that fits their model. Obvious targets would be to ensure you have a 'skill' on Alexa's platform, where users can easily activate your news service over others. But deeper thinking may yieldYieldThe percentage of clicks vs. impressions on an ad within a specific page. Also…//read more other opportunities — spelling games for kids that leverage your content, etc. I'll talk more about these opportunities in a future column, and would love to hear your ideas and experiences.
---
Watch Mary Meeker's report keynote from the 2018 Code Conference
Article by Jeremy Wagstaff