El Faro: Using the best of new and traditional media to give Salvadorans a voice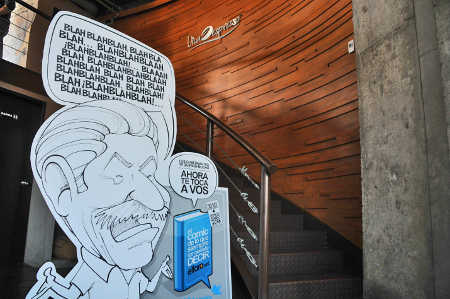 Politicians love to talk, but apart from periodic elections – if you're lucky – how are the people heard?
After 20 years of rule by the same party, Salvadorans voted in a new party in 2009, but the election brought little change. Instead of waiting for the next election for people to make their voices heard through their votes, Orlando Alvarez, the creative director at the ad agency Publicidad Comercial Lowe & Partners, wanted to explore the possibilities of a digital-led advertising and engagement campaign. He approached news website El Faro with the idea of using Twitter to allow the citizens of El Salvador to voice their concerns directly to their political leaders.
Working with El Faro's innovation manager Elmer Menjívar, Alvarez and his agency helped the news site develop a project that took advantage not just of the power of digital media, both El Faro's website and social media, but also leveraged traditional media and advertising channels.
With a strong multi-channel marketing campaign and social media at its core, the campaign took in thousands of ideas to improve the country, engaging citizens in a novel way in their government.
The project shows how powerfully multi-platform projects can engage audiences no matter the media, and how the strengths of digital and traditional media can be combined to maximise effect.
Brainstorming how to engage the citizens of El Salvador
Traditionally, the media have been a one-way channel of communication, allowing political leaders to communicate to, or possibly more accurately at, the people.
"A newspaper, in this case a digital newspaper, always communicates what someone wants to say to the audience," Alvarez said. They thought that they could reverse the roles and give the audience an opportunity to communicate their ideas to those "people who traditionally only give speeches, in this case, the government", Alvarez added.
The advertising agency approached El Faro because it was "the only newspaper that could do something relevant … because of its reputation. You cannot do a campaign like this without the newspaper's brand to back it up".
From El Faro's point of view, the timing of Alvarez's idea couldn't have been better because the digital newspaper had been wanting to figure out how social media fit with their brand of independent journalism, Menjívar said. They took Alvarez's idea and ran with it.
"There is this global trend going on about citizens' participation in journalism, and (El Faro) didn't know if it would be a good idea for citizens to generate content for the newspaper and how to do it," he added.
Citizen journalism has been a trend for years, and with the rise of social media and smartphones, more images, videos and updates that relate to current news stories are available. How would this project add value to what citizens were already saying? How would this project be focused so that El Faro could manage it?
Alvarez said, "(El Faro) didn't want to make the mistake of putting citizens in the role of journalists, but instead let them be who they are." They thought it would be more productive to simply let citizens be citizens and help them communicate their ideas to their leaders.
Key lesson: Don't just follow the digital herd. It would have been too easy for El Faro to simply copy one of the many projects around the world developed by news organisations to let citizens have their say. Rather than simply copy an existing idea, they thought creatively about their goal of citizen participation in government and let that guide their thinking.
Twitter's brevity as a strength
They could, of course, have simply provided a platform for El Salvadorans to comment on politics, but that was happening on social media services like Twitter, Facebook and blogs already.
Returning to Alvarez's original idea that newspapers have traditionally been a one-way channel for politicians to communicate their ideas to the people, El Faro decided to open up a channel to allow the Salvadoran people to communicate, not just comments, but actionable ideas on how to make the country better to their leaders.
In creating the campaign, they decided to Twitter because they saw the 140-character limit of tweets as an advantage rather than a limitation. It would require people to be succinct and focused, Alvarez said. As El Faro co-founder Jorge Simán explained, they invited Salvadorans to "tweet your ideas because government officials have already said too much".
"We knew that many people would want to participate so we couldn't use something like Facebook because if you would give an idea to the government, it would probably be a very long idea so we needed to use only 140-characters so we could keep it simple," Alvarez added.
It also made it easier to develop the platform that they used for the campaign. They turned to Happy Punk Panda Studios, a digital media and animation group, to create a simple application that allowed people to choose which branch of the Salvadoran government they wanted to speak to and what topic they wanted to address.
Happy Punk Panda wanted to be a part of the project because they believed in the idea and the effort, Alvarez said, adding, "they believed that they would gain not only exposure but they believed that they would be doing something (positive) for the country not just for the brand."
In addition to simplifying development, Menjívar knew that Twitter's hashtags would make it relatively easy for El Faro and its partners to collect the Twitter messages. Hashtags are keywords preceded by the # symbol. Twitter users often use hashtags to create a conversation around a topic or event. El Faro chose the hashtag #TuideaEF, "your idea" in Spanish and EF for El Faro.
It's a perfect hashtag. When creating hashtags, you want to be succinct so that it does not take up too many of the 140 characters, and for a project like this, you want it to be unique.
With such a serious topic, they wanted to find a way to add a bit of humour and make it entertaining. "We asked ourselves again what was a resource that we have in the newspaper, something that is really, really part of a newspaper" that could add light and humour to the project, Alvarez said. They turned to the paper's political cartoonist, Otto Meza.
The cartoons could add a touch of satire to the ideas that people submitted.
"Someone can say that we need to do something better with the transport services in the country, and the cartoonist could give it some sarcasm and make it a more powerful argument," he said.
Key lesson: Most journalism organisations have a strong identity, and creating a project like this, while being innovative, needs to be a good fit with that identity. Alvarez and El Faro thought about how to leverage the identity and resources of the independent news site to drive the project rather than letting the project goals or the technology drive its development.
A strong call to action
After six months of planning, they launched the campaign. Social campaigns like this require a strong call to action, and this is where partnering with an advertising agency gave El Faro a major boost in marketing the campaign.
The call to action was fun, irreverent and engaging. Cartoonist Meza created caricatures of major political figures and the previous and current presidents, saying, "Blah, blah, blah, blah, blah, blah, blah."
"Blah, blah, blah is a way to say in Spanish that you're talking too much, that you're talking nonsense," Simán said.
You don't need to speak Spanish to understand the message. Alvarez's agency also had a strong presence in outdoor advertising and used the same idea for billboards and street-level cut-outs of the caricatures inviting people to participate.
Bridging the physical and digital, the street-level cut-outs also had QR codes, a square matrix barcode, that smartphone owners could scan to take them to the campaign application.
For the launch of the campaign in September 2011, El Faro invited prominent Salvadoran bloggers and Twitter users to an event (the article is translated from Spanish by Google) to help build buzz around the campaign.
As the campaign gained momentum, other media signed on. TV station Channel 33 agreed to run ads for free to support the campaign, and radio stations joined the effort too.
Key lesson: To succeed with a project like this, you'll want a strong call to action for participants. After investing six months in planning this type of project, you'll also want to give it the best chance of success by effectively marketing it.
'A digital tool for participation'
The ideas came in a flood, and while the project was originally going to accept suggestions for six weeks, participants called for more time, and El Faro extended the campaign for two weeks. The comments came in not just from citizens living in El Salvador but also Salvadorans living in 100 countries around the world.
During that time, they took in 3,763 ideas directly speaking to the heads of district government, the judiciary, the national assembly and the president, Simán said.
Most of the comments had to do with governmental transparency, honesty and also being more open about how the government was using citizens' money, Alvarez said.
The ideas not only focused on long-standing grievances but also current events. During the campaign, the country suffered floods after rain fell for 15 days, and one of the ideas that came from the campaign was to:
Create a risk and disaster evaluation ministry. We are one of the most vulnerable countries in the world.
Running the campaign in stages ensured the interest remained high even while Meza took on the herculean effort of transforming 200 tweets into cartoons.
"We thought we couldn't ask people for their comments for eight weeks and then take two months without saying anything," Alvarez said. That would have risked losing the momentum behind the campaign. Instead, they decided to show the process Meza took to capture the 200 ideas during the two months he spent illustrating them.
They printed 200 illustrations and 1,000 other ideas submitted during the campaign, creating "The comic book of what you always wanted to tell the government". The book was a success, selling out its first print run of several thousand copies.
Part of the success of the campaign has to be down to the fact that El Faro didn't simply collect the ideas, they didn't just create a book with them – they also promised to do something with them. They told their readers and campaign participants that they would deliver the comments to the political leaders that they were addressed to, and El Faro was able to keep its promise, delivering one of the comic books to district leaders, judicial leaders and the Head of the National Assembly.
"They received the book, and they said it would help them amend some of the mistakes that they had probably made in the past. That was a very political answer. The only (political leader) who didn't receive it and didn't give a response was the President of the country," Menjívar said. This was despite numerous calls to key representatives, including his campaign manager and contacts El Faro had in his office.
The irony is that he is a former journalist who had his own television programme and, as President, he has his own radio programme. However, El Faro's readers weren't surprised at the President's rebuff of the campaign, he added. He hasn't given El Faro a single interview since he was elected in 2009.
The multi-platform campaign broke new ground in the country in terms of digital media as well as effectively leveraging the power of print and multiple advertising channels, and was successful on many levels:
The campaign increased traffic to El Faro, increased subscribers to its email news service and dramatically increased its following on Twitter and Facebook.
The campaign brought global attention to El Faro and Publicidad Comercial Lowe & Partners.
The campaign became only the third in the history of El Salvador to be shortlisted for the prestigious Cannes Lions advertising awards, and last year, the project took second in the editorial content category of the prestigious El Ojo Iberoamericano awards.
As with many examples of successful media projects in the 21st Century, this wasn't a case of digital or traditional media but rather digital and traditional media.
Article by Kevin Anderson