PwC report: TV growth to continue for next five years despite shift to digital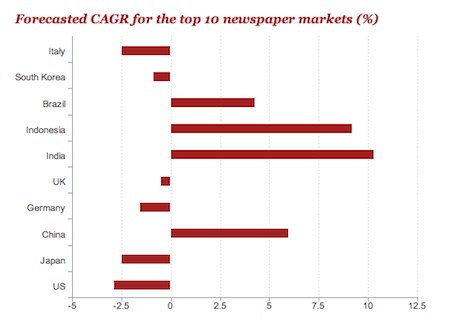 Major emerging markets and regions will power the next five years of growth in media and entertainment, and in these rapidly growing markets, growth will come not just from digital but also from traditional media such as television and newspapers, according to an annual media forecast by PricewaterhouseCoopers (PwC).
Globally, digital media will continue to be the prime driver for growth. PwC defines digital revenue sources broadly, including not just advertising but also consumers buying digital content and digital access. The report finds that:
By 2017, digital revenues (including consumer spending on digital content, digital advertising spending and spending on Internet access) will account for 47% of the total, up from 35% in 2012.
However, digital media is not the only growth story in the report. PwC forecasts that eight core markets – China, Brazil, India, Russia, Middle East and North Africa, Mexico, Indonesia, and Argentina – will see growth rates double that of the entertainment and media sector as a whole over the next five years.
And in many of these markets, especially in Latin America and Asia, television and newspapers will contribute to the growth as well a digital.
Key digital trends for emerging markets

It's hardly surprising that over the next five years digital entertainment and media will continue to power forward. However, dig more deeply into the global, top-line figures, and media leaders in emerging markets can find a lot of strategic insights.
Classified advertising – Just as they have in developed markets, the report says that "online classifieds are set to take over from their print equivalents in developing economies in the next five years".
Search advertising – On Knowledge Bridge, we've covered extensively how targeted search and social media advertising often dominates digital advertising. The report says that search will remain dominant with an important caveat. If Google is not a major player in your market, search advertising isn't necessarily the king of digital advertising.
Mobile access – The future is not only digital but mobile – and we cannot stress this enough. Emerging markets are playing a huge role in this shift. "Brazil, China, India and Russia alone will account for 45% of fixed-broadband subscriptions and 50% of mobile Internet users by the end of 2017," the report found.
Mobile advertising – Do not be timid about embracing mobile because you don't see the advertising opportunity. "Mobile advertising is finally set to take off properly, with growth forecast across all regions over the next five years," according to the report, and by 2017, mobile advertising will account for 15 percent of all internet advertising revenues.
Traditional media to continue growth in emerging markets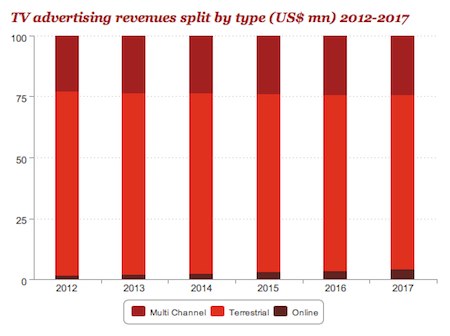 While digital access, content and advertising will be one of the highest areas of growth over the next five years, growing middle classes in emerging markets will also drive growth in revenues for traditional media including television and newspapers, especially in rapidly growing markets in Asia and Latin America.
Thus far, TV has been very resilient to the digital disruption rocking other media sectors such as newspapers, magazines, music and books. As the PwC reports says, it continues to deliver not only the mass audiences but also the attention that advertisers crave. The next five years will see little change in that. Free-to-air terrestrial channels will continue to deliver the bulk, 70 percent, of TV revenues, only down a few percentage points from the current mix.
Again, the only real news here is that emerging markets will see the fastest growth. Kenya, India, Indonesia, Brazil and Nigeria will see the fastest rise in TV advertising revenues. Indonesia, Kenya, Thailand and Vietnam will see the fastest growth in terms of pay TV subscriptions.
Another important trend that the report highlighted for emerging markets is the opportunities for regional media to reachReach1) unique users that visited the site over the course of the reporting period,…
As expatriate communities grow, distributors are increasingly crossing geographical borders to address them. Examples include iRoko, which targets the African diaspora in wealthier markets and has more customers in London than Lagos.
Television advertising hasn't moved online quickly, and PwC thinks that it is wrong to over-estimate the shift from traditional paid TV delivery systems, such as cable, to so-called over-the-top (OTT), internet-carr lanedelivered services. OTT services will remain a small portion, only 6 percent, of paid TV revenues by 2017.

The digital transition has not been so kind to newspapers, and it is important for publishers to note the shift from print to online classified advertising even in emerging markets. However, newspapers will continue to grow over the next five years across Asia and Latin America. Growth in Brazil, India, China and Indonesia will offset declines in newspaper circulation in mature markets such as the US, UK, Japan and Germany.
Leverage data to benefit from the multi-screen shift
PwC painted a picture of a connected but also a confused consumer. Digital has increased consumer choice, but Roberts at paidContent said:
the report (citing people in Singapore who pay for pirated content even though a legal version was available for free) also suggests that the volume of content is leaving consumers "confused."
With so many choices, customers might be confused, they might be overwhelmed by the options to them, but the level of choice has led them to expect "my media" rather than "mass media". The future is increasingly one of multiple screens – TV, tablets and smartphones – but this will pose challenges to media companies. To deliver this personalised content and also targeted advertising to consumers, media organisations will have to constantly innovate, especially when it comes to data about their audiences. Again, Roberts pulled this highlight out of the report about the type of data that media companies will need to use:
granular, small data— derived through analytics—that gives insights into customers' actual and likely behavior in response to a particular message or experience.
It will not be enough to know who your audience is but also what they are likely to do. As advertisers look to increase the return-on-investment for their clients, they will want to know not just the size of your audience and their interaction with your content but also much richer behavioural data. This is why Amazon has just announced that it will be leveraging its vast mountain of e-commerce data to help target advertising.

While paid content has been a major focus in the past year, PwC still sees a huge opportunity for advertising revenue, but media companies will only realise this opportunity if they embrace a multi-platform approach that leverages not only content but also customer data.

Article by Kevin Anderson