Farm Journal shows blueprint for product mindset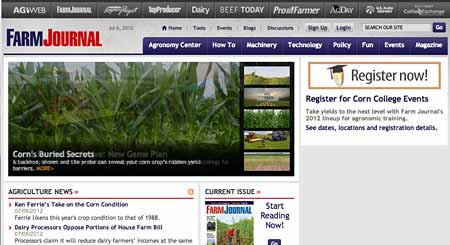 In our last Digital Briefing, we looked at how to develop a product mindset, and if you want to see product thinking in action, you can see it in this summary of how the Farm Journal in the US developed a multi-platform product portfolio and how it manages those products on the web, on mobile and TV, as well as events and data products. The 134-year-old group shows that even established media brands can develop cutting edge multi-platform products.
Since relaunching its website two years ago, Rob O'Regan of eMedia Vitals says the eMedia team at Farm Journal has launched 25 new products. This flurry of digital launches wasn't haphazard, with each product going through a vetting process.
Part of that vetting process includes a cost/benefit analysis. The process has allowed Farm Journal to develop a mix of revenue from advertisers, commerce and readers. In July's Digital Briefing, we'll look at how to develop the right revenue mix, another key step in making the digital transition.
As we said in our product mindset series, this is about setting priorities, editorial and commercial. As you develop this portfolio of products across the platforms you serve, you'll also need to adapt your management. Mitch Rouda, president of eMedia at Farm Journal gave some insights into their management and product development process:
Importantly, every project must have an owner – generally one of the lead executives for AgWeb, digital advertising, business development, or one of the brand editors. The development team never owns a project – it serves as an internal vendor to the sponsors.
Working with technical teams is one of the early challenges in making the digital transition, but having clear goals and clear ownership of projects is part of developing a successful working relationship with technical staff. Product ownership is also important because it establishes clear lines of responsibility. With Farm Journal set to grow 80% in the next five years, it shows that such a strategy produces results.
Article by Kevin Anderson