Facebook dominates but leaves room for others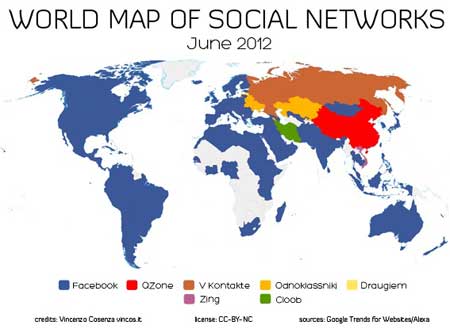 Facebook is the global leader when it comes to social networks, but if you dig a little deeper, you find that the world isn't simply dominated by it and the other major US social media player, Twitter. Vincenzo Cosenza has been analysing Google and Alexa data to determine the top social networks in more than 100 countries and although his map for June 2012 shows a sea of Facebook blue, there is space for other players – including news organisations – to deliver new services. Cosenza said:
Facebook with more than 845 million active users has established its leadership position in 126 out of 137 countries analyzed (in this edition I've added Uganda).
It's a much different map than in 2009, when you still had major regional players such as the pioneering networks of Hi5, Orkut and Friendster, not to mention networks like Mixi and South Korea's virtual world player Cyworld. Of course, in Russia and China in 2012, Facebook doesn't dominate. In Russia, Odnoklassniki (Classmates) and vKontakte rank number one and two. In fact, in China, Facebook is nowhere to be seen. Instead, local networks such as Qzone, Tencent Weibo and Sina Weibo rank one, two and three. Weibo are the popular Twitter-like micro-blogging services.
However, just because Facebook dominates, doesn't mean that it has completely defeated other networks, and it's interesting to look at what kind of social networks are running in the number one and two spots. In several countries including Australia, Germany, Denmark and Finland, professional social networks such as LinkedIn and Xing are in the number two or three spot. Another popular type of network is dating-based social networks such as Badoo.
Professional networks and dating services don't just hold an opportunity for social networks but can also be an opportunity for news organisations to develop digital products that can bring much needed revenue to support journalism. Many news organisations including The Guardian in the UK and Australian group Fairfax have successfully developed dating services that are the digital age equivalent of the personal ads in newspapers. News organisations should think of other ways to create digital versions of services they offer now or have offered in the past as they make the digital transition.
(via CNET and The Next Web)
Article by Kevin Anderson