Dayparting: Publishing digital content when your audience is most likely to see it
In newspapers, the daily rhythm is dictated by the press, and in the early stages of the digital transition many newspapers still stick to this schedule to the point where they often publish their stories online at times that reflect when they went to press rather than when their audiences are most likely to read them. However, that is starting to change as newspapers adopt strategies such as dayparting, to make sure that they publish content on a schedule that matches the traffic patterns on their websites.
In the not-so-distant past, even advanced newspapers would publish their stories online all at once, often very early in the morning when audiences, particularly local audiences, were thin. However, beginning a few years ago, they realised that the stories would get far more traffic if they were published to match the ebb and flow of their digital audiences rather than the daily schedule of the presses.
In a recent memo to staff of the Wall Street Journal Digital Network, managing editor Raju Narisetti encouraged staff to continue their efforts to publish more content when their audience was visiting the site, rather than later in the day after print deadlines when traffic was starting to trail off. In February 2013, Narisetti was promoted from his position as managing editor of the Wall Street Journal Digital Network to become the senior vice president and deputy head of strategy for the new News Corp, the print division of News Corp that will be spun out of the corporation later this year. In the memo, he explained to staff:
The green line in the chart below is when readers come to us looking for the terrific journalism WSJ promises them, as measured in the % of daily readers who come, each hour.

The blue line was when we were publishing our stories, by the hour, in 2011-12.

The red line shows how all of you moved the needle significantly in recent months to get more of your great journalism to your audiences when more of them were looking for it on our site.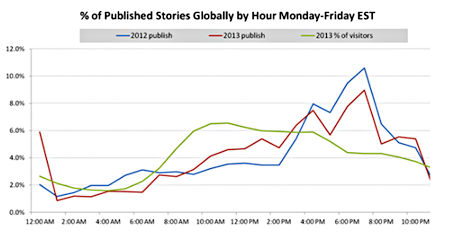 Journalism website Nieman Lab referred to this as dayparting, the concept of breaking up the day into parts and delivering different kinds of content during different parts of the day. It will be a familiar concept to broadcasters. Radio and TV stations have long broken up the day into parts with specific types of programming. In radio, you have "drivetime" to cater to commuters, and in TV, the concept of primetime is well understood. However, the idea is only now being applied to websites.
The early stages of implementing such a strategy is simply: analyse your traffic patterns and make sure that your digital publishing schedule corresponds to when your digital audience is greatest. But that's just the first step. Dayparting is not just about the volume but also the type of content matching the type of viewer. Morning television news shows, daytime, primetime and late night TV content have all been developed for the type of audience that schedulers believe are greatest at that time of the day. Similarly, a handful of news websites are starting to analyse not only the traffic spikes but also content consumption patterns of their audiences. To start your analysis, look at the traffic peaks during your day:
What sections are people viewing? Is it news content, features or opinion pieces?
When are people most likely to comment or share content via social media?
How are your audiences viewing your site? When does mobile access spike? When are most people looking at your site via a desktop or laptop computer?
When are they most likely to view multimedia?
Once you find this out, you can start to consider your digital publishing strategy. One news group I worked with had a wealth of statistics on the behaviour of their audience and found that people often read longer pieces and pieces where they could comment during their lunch break. Armed with this knowledge, you might want to consider publishing pieces designed to spur debate and discussion to coincide with the middle of the day.
Many websites see a spike in news reading when people get up, when they arrive at work and right before they go home from work. Also, if people check your website right before they go home, you might consider providing them with information they will need for their journey home. Is traffic a problem for your community? Maybe you should create a sponsored traffic feature for the morning and evening commutes?
In markets where tablets are on the rise, such as India, they are also seeing a late evening tablet mini-spike when people check the news, often from bed, on their tablets.
Again, we come back to the idea of the need to dive deeply into your analytics and data. Television and radio stations have traditionally had to rely on external measurement companies, but the beauty of online publishing is that you have access to a gold mine of data that can help you decide on your dayparting strategy. It's a brilliantly obvious strategy when you think about it, but one that is still very nascent even amongst advanced digital publishers.
The other positive aspect of dayparting is that it is low-cost and applicable regardless the size of the news organisation. It can deliver benefits to the Wall Street Journal and also to local news websites, and adopting it can help deliver a competitive advantage as you fight for readers' and viewers' time and attention.
Article by Kevin Anderson